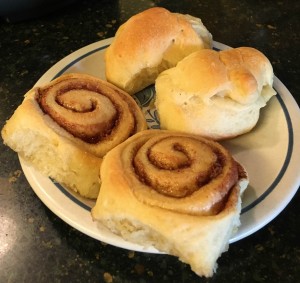 Every family member can attest: Grandma Tanner knew how to cook! Her fold-over dinner rolls or homemade biscuits were found at most meals.  Every day was like a savory feast: mounds of whipped potatoes, fresh green beans, a rhubarb pie, seasoned corn and fried chicken or smothered steak. When I was young I remember watching Grandma churn fresh butter. Chicken butchering day was a family affair. Christmas season meant slipping out to the cold back porch to find tables covered with sweet fudges, divinity, and baked goodies. But the rolls … oh my, the fluffy rolls  were my favorite! They seemed to literally melt in my mouth. Over the years, I've strived to make Grandma Tanner's rolls. I hope you will enjoy these also.
GRANDMA TANNER'S FOLD-OVER ROLLS
… passed down from her mother-in-law, Grandma Proffitt, who received it from her mother, Grandma Rowland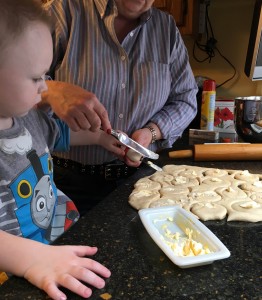 Ingredients:       1 pkg. yeast dissolved in 4 T. warm water (I use 2 T loose yeast.)
1 1/4 cup boiling water
2/3 cup shortening
2 beaten eggs
1/2 cup sugar
1 tsp. salt
5 cups flour
butter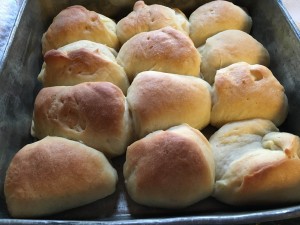 Directions for Fold-over Rolls according to Grandma (adaptations following):
Pour boiling water over shortening. Allow this to cool.
Add beaten eggs, sug
ar, salt, and yeast mixture. Beat with an electric mixture. (I remember Grandma using a wooden spoon and  her strong hands.)
Add flour 1 cup at a time, beating well each time. Let stand. Cover and refrigerate overnight. (Or, if you are making them for use today, cover the bowl with a clean towel and let the dough rise until double (~ 1 1/2 hours).
When you are ready for rolls, knead the dough a time or two on a floured surface. Roll the dough out to about 1/4″ thick. Cut the dough into circles with a cookie cutter. Place 1/2 pat of butter on each circle. Fold over and pinch the edges to seal.
Spray a cookie sheet with cooking spray and place the fold-over rolls on the sheets. Cover with a clean towel and allow the rolls to double. (~ 1 1/2 hours)
Bake in a preheated 325-degree oven for about 20-25 minutes until golden brown.
** Unused dough may be kept in the refrigerator a day or two. Just pinch off what you need for each meal.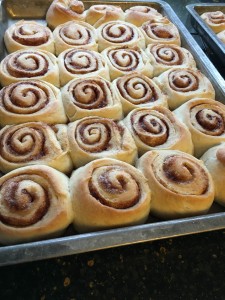 My Adaptations to Assure Success every time!
Success idea #1. Add the sugar and salt to the boiling water and shortening. Allow the mixture to cool to 115 – 120-degrees. (I use a candy thermometer to check the temperature every time!) Then sprinkle the dry yeast over this mixture. Stir. The yeast should quickly begin giving off bubbles, so you will know you haven't killed the yeast by heating it too much or allowed it to cool too much. Continue as written.
Success idea #2. Double this recipe and make cinnamon rolls out of at least half. Your family will love you and it is so simple! After the first rising, roll out a portion of dough. Instead of cutting circles, spread a layer of softened butter or margarine on top. Sprinkle with sugar. Top with cinnamon. Begin rolling from the long edge, crimping as you go. When you have a long tube, use a sharp knife to slice off rolls. Place them on a sprayed cookie sheet. Cover with a towel. Allow to rise and then bake for about 25 minutes until lightly golden. Delicious!