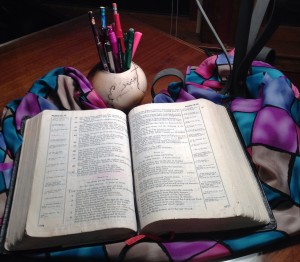 I reached for my Bible as I sipped the hot coffee.  Thank you, God, for awakening me before anyone else is up and about in our busy house. Silence. Where would I begin? My Bible automatically fell open to the tattered edge of a familiar psalm. Psalm 19 spoke to me. Skimming the page, I was drawn to faded underlining and notes; changing colors marking life events and teaching. I smiled as one of my "go-to" verses seemed to pop off the page. Its rich newness juxtaposed itself against the worn paper. "Let the words of my mouth and the meditation of my heart be acceptable in They sight, O Lord, my strength and my redeemer." I spoke the words aloud. No need to read it – this was embedded in my heart over 50 years ago.
"Great is Thy Faithfulness, oh God my Father." The tune flowed through my mind and heart. Yes, God again God spoke through His word. Your Word is new every morning. Thank you, God, for this 'Go-to' verse today.
Quietly, slowly, I began turning the pages. More go-to verses seemed to leap from the page in comfort and promise. Year after year. Season upon season.
GO-TO. I'd never named verses before. I giggled; it seemed so fitting. The go-to gal in an office is that dependable hard-worker who will definitely get the job done. My go-to recipes can be prepared at a moment's notice: quick and easy; tasty and colorful; ingredients usually in the pantry; recipe nearly memorized after years of use. My go-to clothing consists of my jeans and a comfy V-neck sweater. Dress it up or dress it down. Go-to: Ease, comfort, and dependability counts.
What go-to verse speaks to you? Do you study your Bible so often it just seems to fall open to key passages? If not, ask God to speak to you personally in His word. Read and pray, anticipating the newness of God's Word to touch your heart daily.
A Little Bit More …
Make a list of "go-to" verses. Start with five. Ask God to help you commit these verses to memory. Ask Him to help you mediate on His Word. Begin with Psalm 19:14 and Lamentations 3:22-23.
Go through your closet. Take out any piece of clothing which could never be on your "go-to" list. Give those pieces to someone who will enjoy them.
Sort your recipes. Place your "go-to" recipes in a new binder or file. Stock up on a few must-have ingredients, so you'll always be ready for a quick meal or dessert.
I'd love to hear from you. Write back to give us a glimpse of your "go-to" ideas.
Let the words of my mouth and the meditation of my heart
Be acceptable in Your sight,
O Lord, my rock and my Redeemer. Psalm 19:14
The steadfast love of the Lord never ceases;
    his mercies never come to an end;
they are new every morning;
    great is your faithfulness.  Lamentations 3:22-23